20 Most Promising Procurement Technology Solution Providers - 2019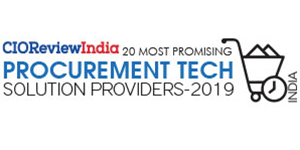 The world of Procurement has undergone tremendous change in the past decade. It is now time to look at how it is going to shape up in the coming years. Advent of new technologies and their impact on Procurement has been projected as procurement trend. Organizations are increasingly looking to adapt to cognitive procurement technologies with the use of Big Data Analytics, Machine Learning, Artificial Learning, Natural Language Processing, Machine Learning, Robotic Process Automation and many more. The organizations have realized the importance of digital procurement which is making them invest in right infrastructure, processes and resources with a vision that aligns the organization's objectives for the long term. And also as the Procurement function delivers traditional cost savings, it is required now to focus heavily on digital technologies and supplier synergies in order to provide a strategic edge of the organizations. Building a holistic supply chain and driving an enterprise wide-cost reduction will become increasingly important as procurement professionals look at the value to help offset rising prices. The coming years of Procurement function promise greater expectations with new challenges and unique opportunities as it a fundamental necessity for continued success of an organization.
Coming to the aid of enterprises for the right Procurement solution provider, CIOReviewIndia has prepared a list of "20 Most Promising Procurement Technology Solution Providers". These selected solution providers possess a proven track record in achieving their customer's business goals. It is a collection of leading edge-vendors that deliver exceptional customer satisfaction with their robust solutions and industry rich experience. The vendors featuring in this listing have been carefully chosen by a distinguished panel of CEOs, CIOs, industry analysts and CIOReviewIndia editorial team.
We present to you CIOTechOutlook 20 Most Promising Procurement Technology Solution Providers - 2019.
Top Procurement Technology Solution Providers
| Company Name | Company Description |
| --- | --- |
| ProTaiga | Renders a SaaS based integrated buying solution to simplify procurement processes and enable clients to operate in a dynamic procurement and supply chain environment |
| | |
| --- | --- |
| BOB eProcure | A platform that addresses integrated procurement system from finanacial planning, negotiations, to invoices and payments |
| C1 India | Automates the manual procurement process through deep process knowledge and innovation |
| Consus Global | Enables cloud-based S2P technologies solutions and customized solutions for supply management |
| Cyberica | Implements procurement platform which allows an organization to reduce spend and increase operational efficiencies. |
| Enaviya Information Technology | e-procurement software solutions for pharma, automobile, e-commerce and other industries are provided |
| e-Procurement Technologies | Offers a platform that avails opportunities for supplier collaboration that ease the purchasing process |
| Genpact | An AI based platform accelerates digital transformation and improves the customer experience |
| GEP | Flexible set of procurement solutions are provided like cloud-based software, global operations etc. |
| Icertis | Offers a platform that negotiates better deals and ensures supplier compliance |
| Ivalua | Solutions with respect to simplifying the buying experience and achieving high adoption and management are provided |
| NetCreativeMinds | Simplifies procedures, streamline buying processes and cuts down procurement costs |
| OSMO IT | The integrated tools and control management solution is supplied for secured procurement function |
| Panso Solutions | Provides data validation and clensing services that impacts increase in the velocity of procurement transactions |
| PRM360 | Provides software based management services like catalog management, contract management, and eInvoice management |
| Procol | Optimizes the procurement process with a software that is built for businesses |
| QuantumCaps | Delivers solutions for procurement outsourcing, e-buying, codification, e-tendering etc. |
| SAP Arbia | Provides streamlined catalog maintenance and a configurable interface and delivers quick ROI with built-in approval flows for catalog and contract compliance |
| Simpplify | End-to-end Vendor Network Management platform provides buyers with a larger vendor database, facilitating them to choose the vendor of their choice |
| Zycus | Integrates Catalog Management, purchase order management and yields performance across source to settle spectrum |