10 Most Promising Procurement Tech Service Providers - 2020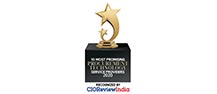 Traditionally a company's procurement needs were typically handled in the paper. However, with the advent of the internet, e-commerce businesses began to flourish, and procurement functions shifted towards the electronic transmission of data such as through e-mails and websites. As new technologies such as Cloud-based tech, blockchains and IoT continued to come along, transformation in the procurement process also started to happen. This eventually paved the way for e-catalogues, and end-to-end procurement systems managed by online Enterprise Resource Planning (ERP) systems.
A wide array of industries started leveraging e-procurement technologies to automate supply processes, bringing significant bottom line benefits to enterprises by allowing greater productivity, visibility and cost-efficiency. In essence, e-procurement is an all-encompassing term incorporating many aspects of electronically assisted buying and supply chain management. It can include services such as hosting of databases, catalogue management, managing tenders and auctions on behalf of clients, all the way to the complete procurement service.
According to one research conducted by the Bain and Company, fully automated procurement function could save the Global 5000 up to $86 billion annually. The data further points out that global investment on e-procurement tools and platforms stood at $475 million back in the year 2017. The global e-procurement market size was valued at $5 billion in 2018, and it is expected to reach up to $9.2 billion by the year 2026.
In this edition of the CIOReviewIndia Magazine, we present to the readers a list of the "10 Most Promising Procurement Tech Service Providers - 2020". The list of companies has been prepared by a team of experienced CEOs, CIOs, and CXOs, industry veterans and the CIOReviewIndia editorial team. We believe the enlisted companies are best placed in solving the inefficiencies prevalent in the supply chain domain and curate a hassle-free procurement experience through their innovative, cutting-edge technologies.
We present to you CIOTechOutlook 10 Most Promising Procurement Tech Service Providers - 2020.
Top Procurement Tech Service Providers
| | |
| --- | --- |
| Aerchain | AI-driven platform that facilitates savings, efficiency gains, and companies' whole procurement process. |
| GEP | Provides Source to Pay services like Spend analysis, strategic sourcing, category management, tail spend management, transactions management, contract management, and sourcing press management. |
| Latentech | Offers procurement services such as sourcing, procurement management, and integrated inspection services. |
| NetCreativeMinds | Simplifies procedures, streamline buying processes and cuts down procurement costs. |
| Panso Solutions | Provides data validation and cleansing services that impacts increase in the velocity of procurement transactions. |
| Pcura Consulting | Procurement services include TCO modeling, contract management, bid optimization/analysis, price bench marking and spend analysis & reporting. |
| PRM360 | Provides software based management services like catalog management, contract management, and eInvoice management. |
| SAP Arbia | Provides streamlined catalog maintenance and a configurable interface and delivers quick ROI with built-in approval flows for catalog and contract compliance. |
| Tutelam Strategy Consultants | Offers P2P Outsourcing services enabled with IT solutions as well as Non-Core Procurement Outsourcing. |
| Zycus | Integrates Catalog Management, purchase order management and yields performance across source to settle spectrum. |